Wed Jan 02, 2013 5:25 pm
Hey Glenn,

What camera do you have and how and where is it mounted. This was a great video, though I asked about it under the SKI thread, where Jason put your You Tube Video. How does the Cub Perform with 2 on board? Maybe I will drive up and get some ski dual from you.

Ciao - Bob
Wed Jan 02, 2013 5:29 pm
That's almost enough to make me wish I was back there. ALMOST, but not quite.
Wed Jan 02, 2013 6:01 pm
Was he really buzzing sleders though?
Thu Jan 03, 2013 12:33 am
RKittine wrote:Was he really buzzing sleders though?
Not even close, buzzing is when you get them to dive off and dig in the snow
Glenn
Thu Jan 03, 2013 8:32 am
Can you post that video or if you do't want it on the web, E-mail it to me .......
Tue Jan 08, 2013 2:42 pm
OK, my first editing job, started with almost 2 hrs and got it down to this, still a little long. I used the youtube editor and can move the begining foward or make the ending shorter but can't figure out how to remove stuff from the middle of each clip.
This is Joe and me heading to Parlin NH 138 miles away and then landing at island Bob's on the way back. A little breezy but an awesome day to be alive.
http://youtu.be/SYX86341qXE
Glenn
Wed Jan 09, 2013 3:29 am
Nice video.
I find it very annoying generally, to edit my aviation films since as the pilot, virtually every second is interesting to me. There's always something to see and be noted, especially to pilots. We have to snip footage for various reasons such as digital memory or time but, short viewer attention span for other than intro films, shouldn't be one of them.
Wed Jan 09, 2013 8:37 am
Nice job for your first editing attempt Glenn. Looks like a fun day. We have some now up at Warwick, but they did not plow the grass runways and the mounds where they plowed the taxi ways are problematic when landing where the snow is. I have will have to start getting out the snow blower after each plowing and cut areas to pass through and make sure some snow is still on the taxi way to cross over.

How much longet of a ground roll, would you estimate on landing in snow of say 4 or 5 inches on the ground, un-packed? I assume that it will go up considerably on packed snow.

Bob
Mon Jan 14, 2013 4:25 pm
My friend Kenny has a strip that scared the crap outa us the first couple times we used it 17 years ago when he cut it out of the side of a hill. We nicknamed it Bolivia. A little ski flight to Bolivia and back.
http://youtu.be/SqkLtpWIHU4
Glenn
Mon Jan 14, 2013 5:30 pm
Thanks for the photos and measurements Glenn, you are a prince.
Mon Jan 14, 2013 7:09 pm
Oh... the Love...
Mon Jan 14, 2013 7:52 pm
I have to be nice to him. He helps me out a lot .........
Tue Jan 15, 2013 7:14 pm
as much as we dont want to be seen around glenn
, he is an awful help
Wed Jan 16, 2013 8:40 am
And he thinks that I just do not show up at the fly-ins because I am tied up.
But, true he is really helpful and supportive. What good friends are made of. (Yes, I probably need something!)
Did some flying yesterday Glenn. Also worked on the skis a little and started to put together an axle with two quick disconnect tires. Do you think that Spray Grey Rustolium primer and then Rustolium enamel will paint them up OK? I have ordered the cables and bungees. Now we just need snow.
Sun Jan 20, 2013 8:16 pm
Well im sure glenn is glad i finished rigging the plane, seeing how i called him a bunch of times. Thanks for the help Glenn.
Now we need snow...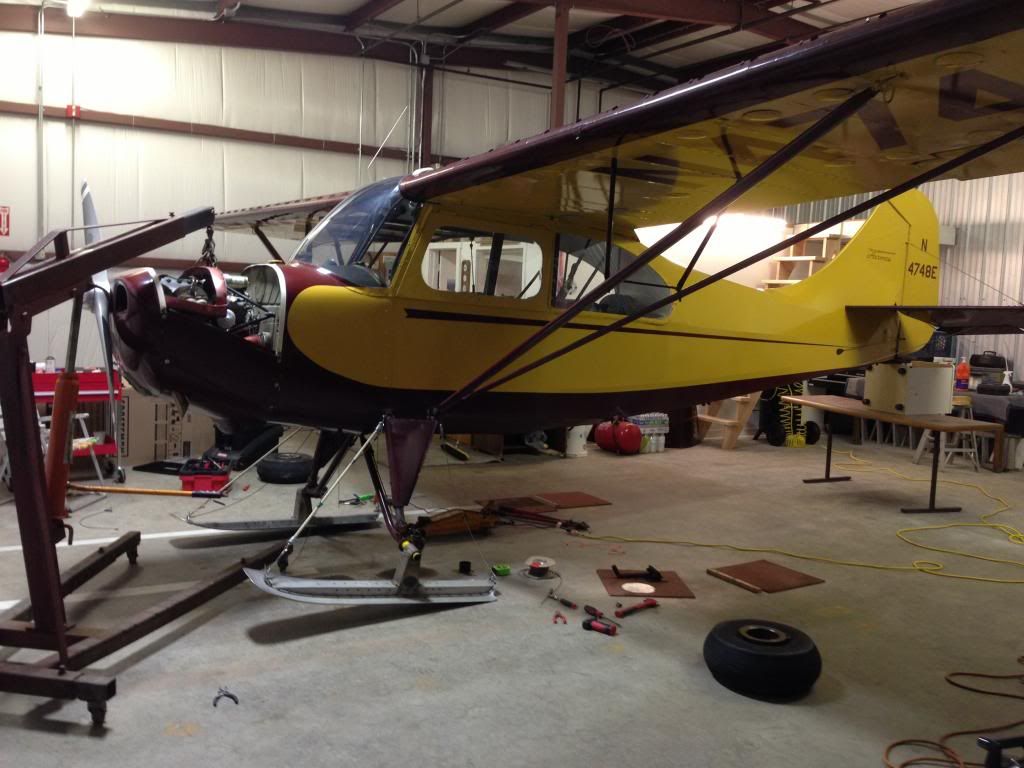 Tom
Mon Jan 21, 2013 11:30 am
Tom have you come up with a dolly yet? I like the idea over on the Aeronca site. Since I have the lower holes, I can put those CAM actuated axles in each ski and raise and lower the plane by flipping a handle and when down on the skis, pull the wheels out and throw them in the back of the plane. Not sure how much damage that could do to the skis, but the ones that were for sale (and sold) did not look like it causes any wear on the bottoms.

Bob
Tue Jan 29, 2013 3:29 pm
Little fun from last weekend



Glenn
Mon Feb 04, 2013 7:32 pm
Hey Glenn, Does Dan put any time on the Champ? Looks like another fun flight. Bet Tim is Jeolous down there in Florida with warm temperatures, clear skis and no plane!
Bob
Mon Feb 04, 2013 11:13 pm
The snow sucks in central NYS so Carbon Cub Joe flew up Sat morning and we headed north to find some snow. First stop was Speculator for breakfast and then up and around to Stillwater. We found some snow but not much on the ground. Fun day.



Glenn
Fri Feb 08, 2013 10:24 am
I have a question for you guys. My Tcraft F21 is on skis w/dolly wheels but I'm located in the winter (floats off) at a paved strip. Ther is a flat grass area that's approx. 1200' long that I can take off from but I'm not sure about coming back. What do you think the landing roll (slide) would be with Federal 1500s with UHMD bottoms? Over run takes out taxiway lights.

Jim Baker Rochester,NY
Fri Feb 08, 2013 12:09 pm
Hey Jim. As long as your in snow even 1" you should be ok. The fastest is of course bare ice like on a lake. 1" of snow covered with ice not as bad as bare ice but still slippery. If you look at the vids I posted when I land back at my place I'm landing on a 900' strip and landing on a slight down slope and still only using less then 400'.
You should only use 2 to 300' after your skis touch the snow. So as long as your using the first 400' and not the last 400' you should have no problem.

Glenn
Fri Feb 08, 2013 5:14 pm
OK here's the NY plan for Sunday the 10th, Just talked to Scott and the Syracuse boy's want to meet up at Speculator for breakfast at 10am. Then head to the ice palace in Saranac Lake and then back to his fathers camp on 7th lake to grill some hotdogs and burgers. We will be on 122.75
Speculator.
https://maps.google.com/maps?t=h&ie=UTF ... 16&vpsrc=6
Saranac ic palace, Lake Flower
https://maps.google.com/maps?t=h&ie=UTF ... 15&vpsrc=6
7th lake, Scotts camp is next to Paynes SPB ( NK15 )
https://maps.google.com/maps?t=h&ie=UTF ... 16&vpsrc=6
Glenn
Sun Feb 10, 2013 10:12 pm
Started out a little chilly. Was a little below 0 at 7:30 am but a big yellow sun was poking up over the hill. Joe showed up and landed in my runway fluff around 8:30. We got some gas and coffee and headed over to met Todd and his Ercoupe on skis and headed North to meet the boy's at Speculator for breakfast.
Something you don't see everyday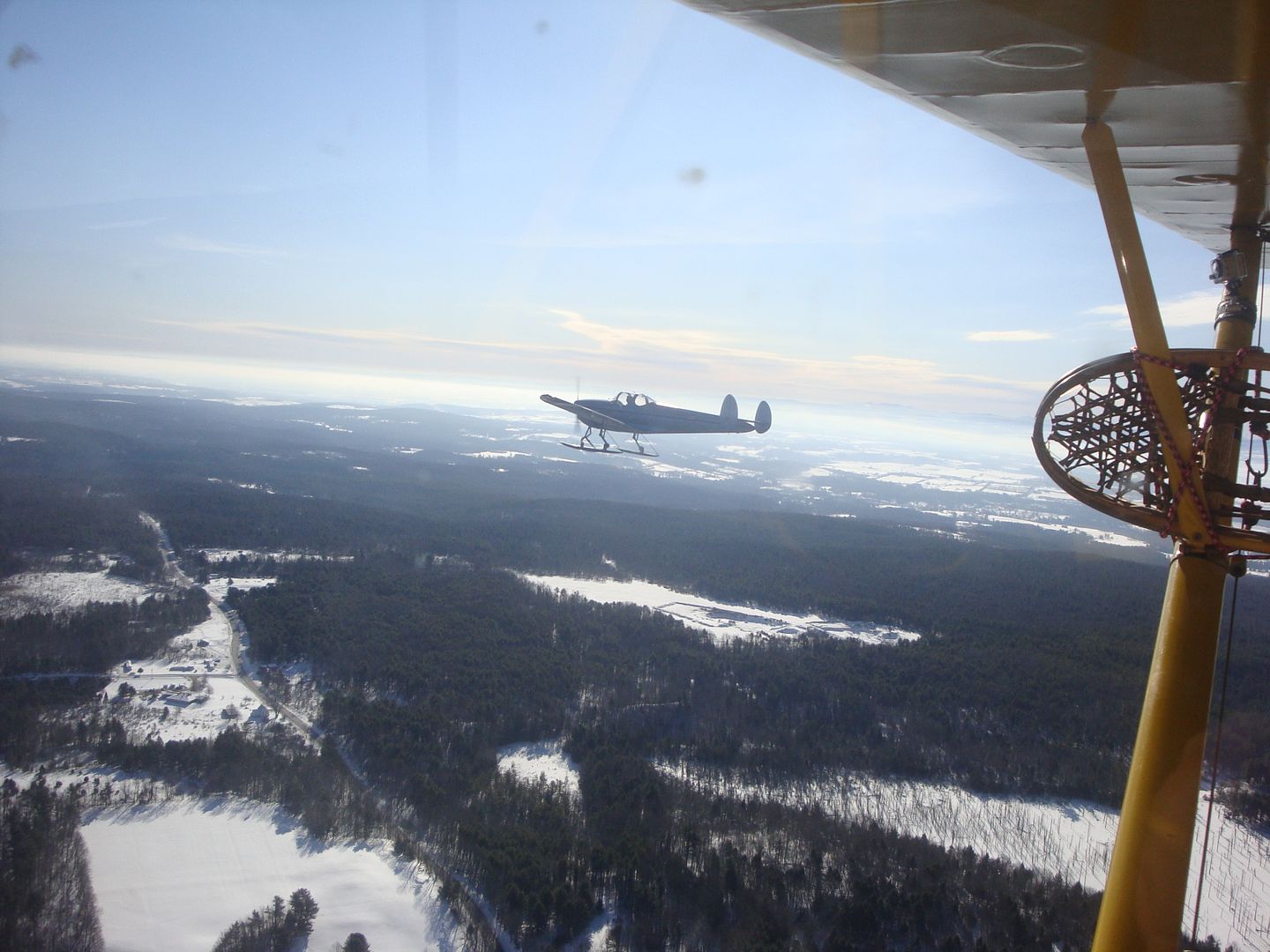 Speculator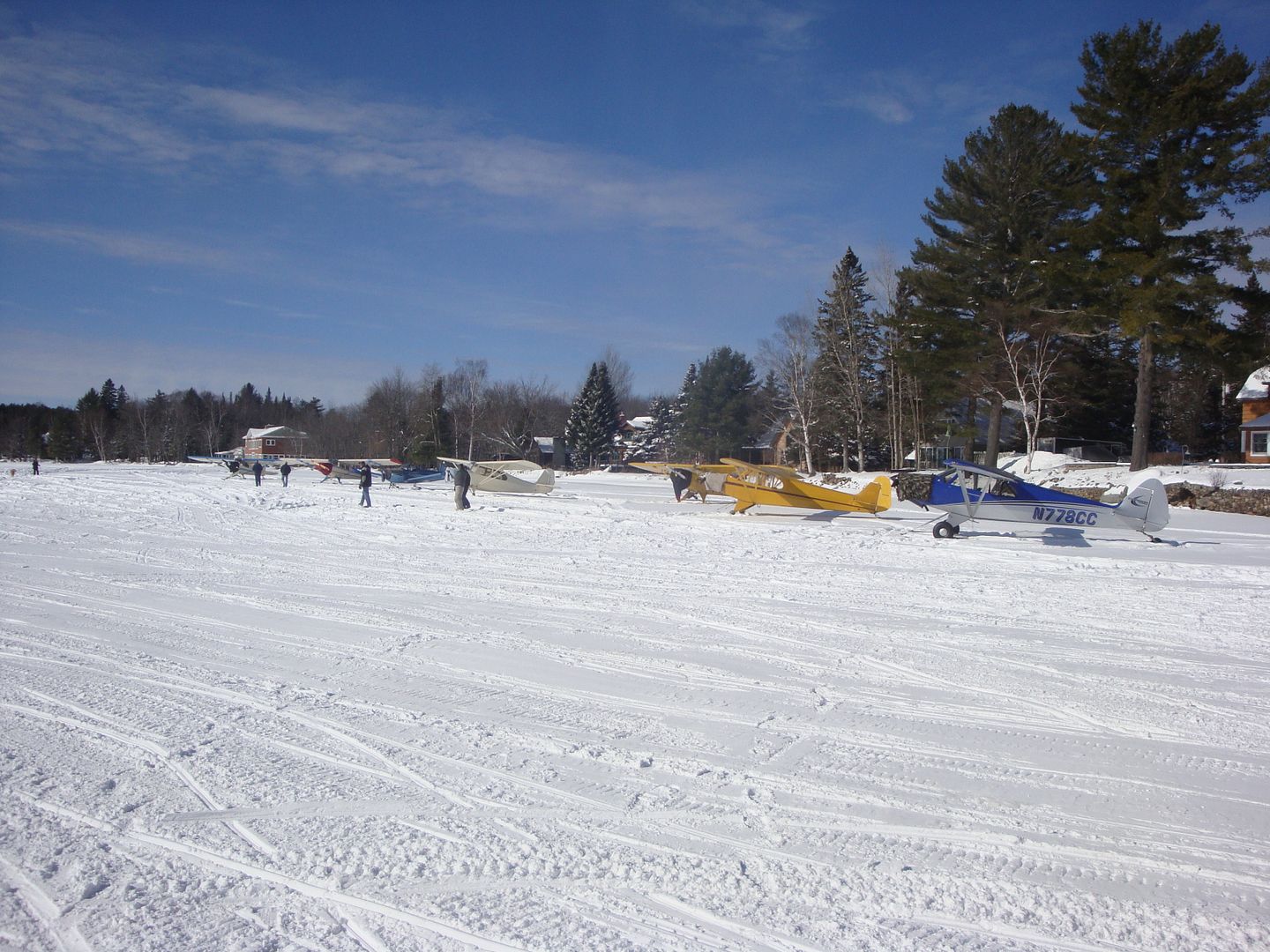 Saranac Lake, was -25 below at 7am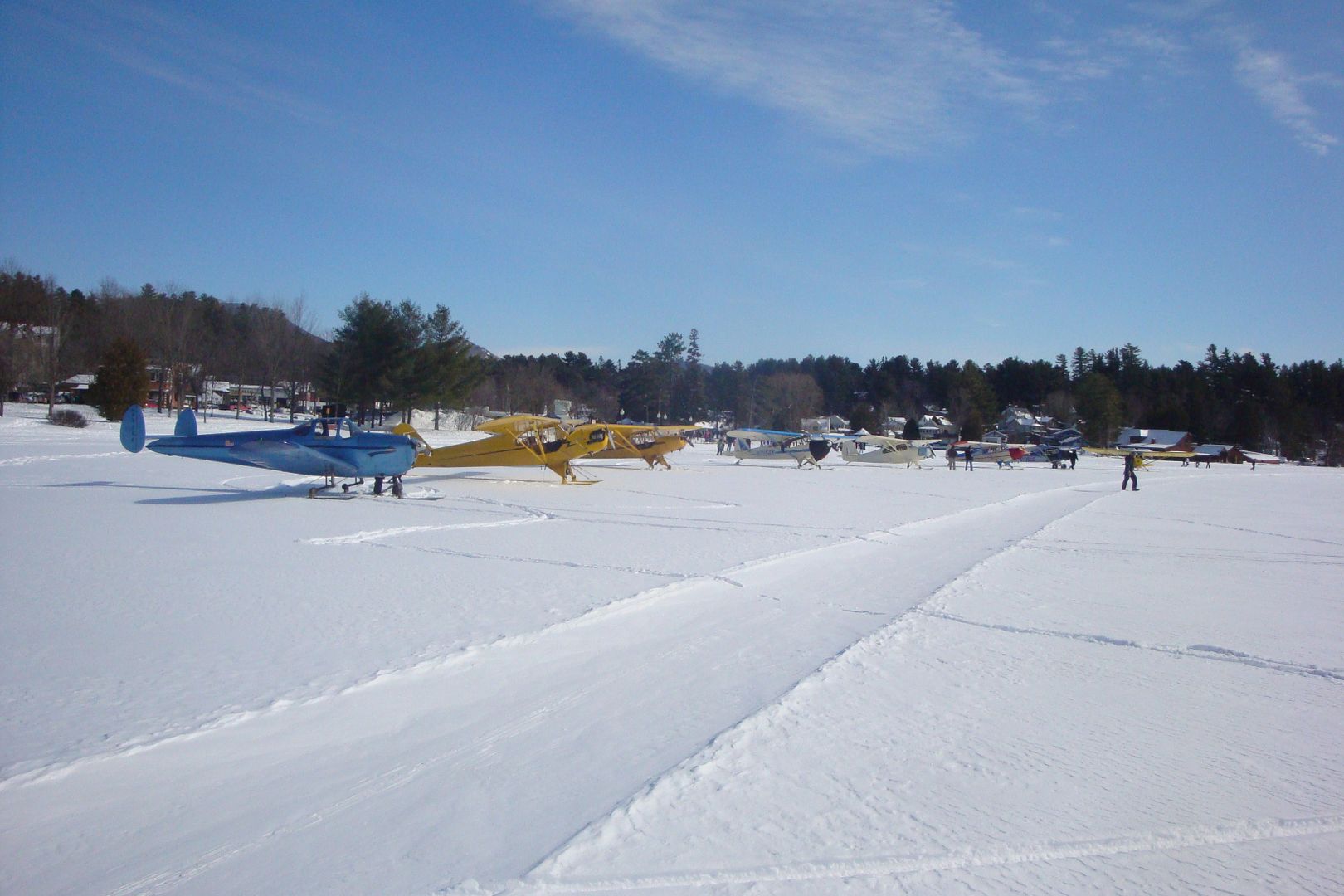 Ice castle was only half of what they build some years but it was a crummy ice year.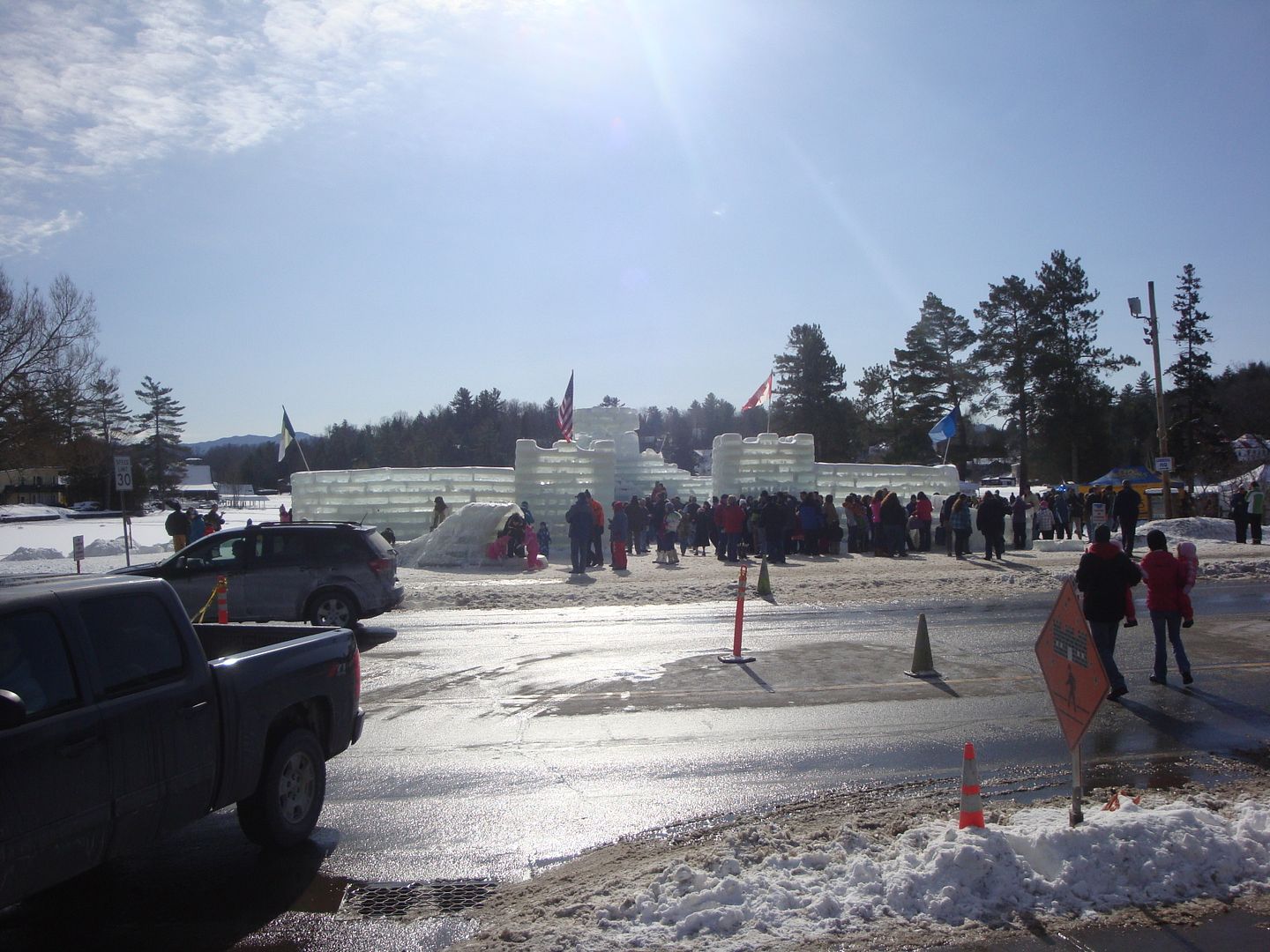 2012 Carbon Cub trying to out run a 1946 Ercoupe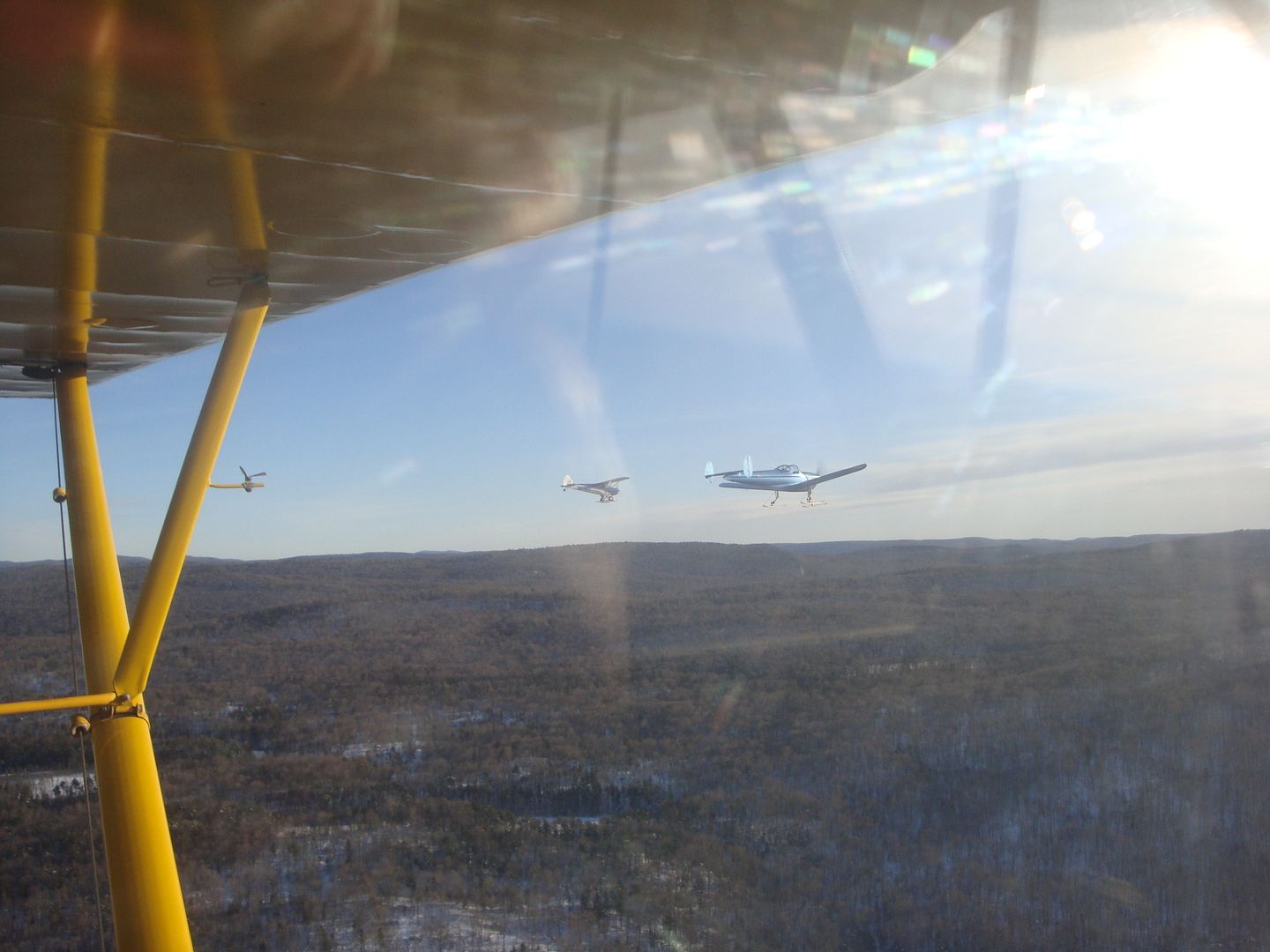 Glenn