Wed Feb 15, 2017 7:01 am
Looks like a great day with lots of fund and always great pictures. Thanks Glenn.

Bob
Thu Feb 16, 2017 10:50 am
Sun Feb 19, 2017 10:02 am
Great pictures as always Glenn. Is there a nosewheel screen on that Ercoupe? I can't tell from the picture. First one of those I have seen like that.

Bob
Wed Feb 22, 2017 9:09 am
Check this out, it's a 360 view, control view at top left or with your touch screen
https://youtu.be/Xydi9y3BXOs
Glenn
Wed Feb 22, 2017 12:13 pm
Super Cool. Is that a super wide angle lense out on the wingtip then cropped video?

Bob
Wed Feb 22, 2017 12:51 pm
Thu Feb 23, 2017 8:34 am
Got to get me one of those. It is what I though.

Thanks Glenn - Bob
Sat Mar 11, 2017 1:22 pm
I got the trans back together and back in the Willy's so it's a nice snowy 12F day so took it for a spin up and down the runway. The Model A needs the steering box rebuilt so got that started and backed it out of the hangar and the Jeep and the A switched places after a few takeoff runs down the runway with the A. Never got airborne but my face felt like I got to 30,000 feet.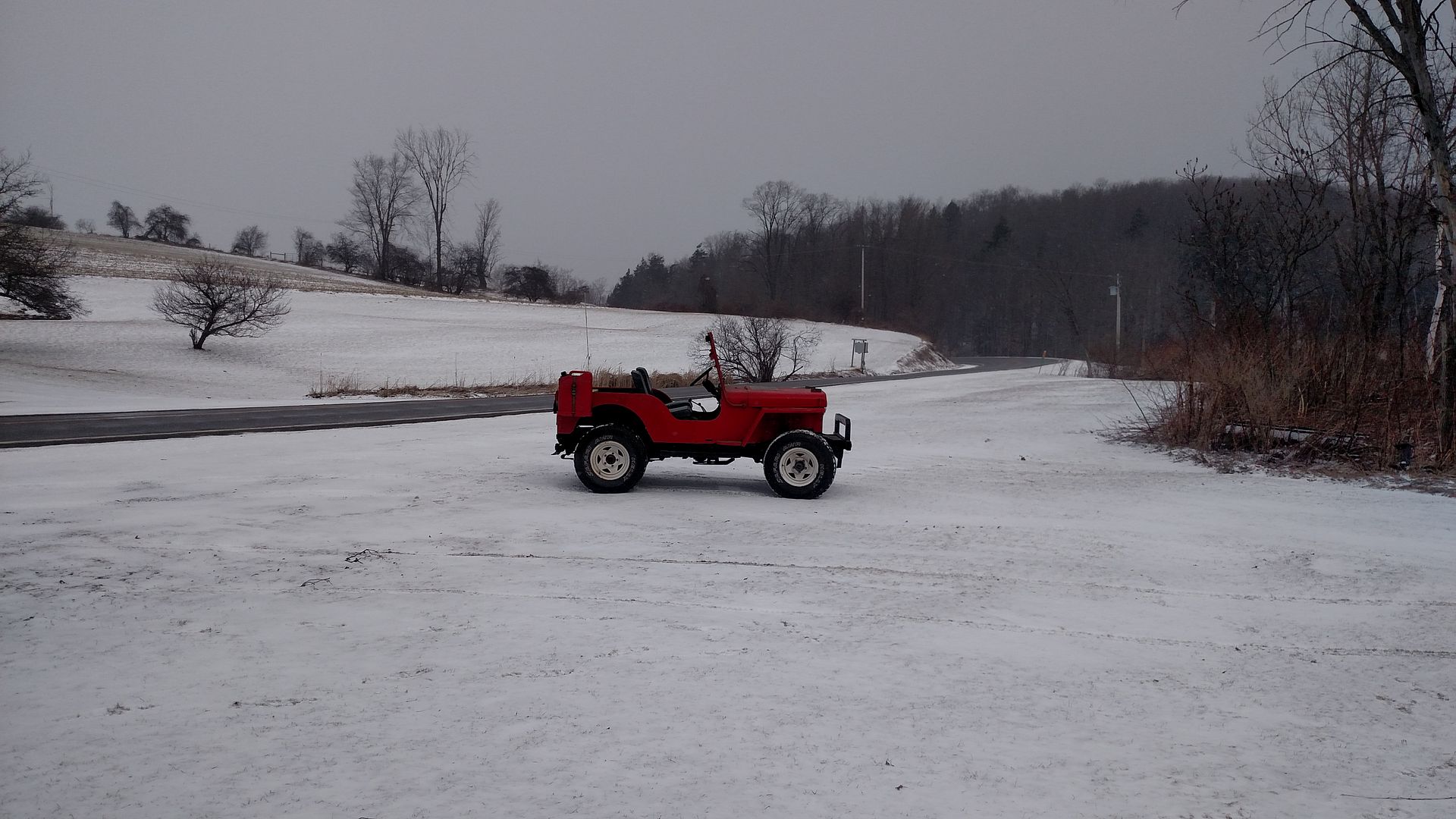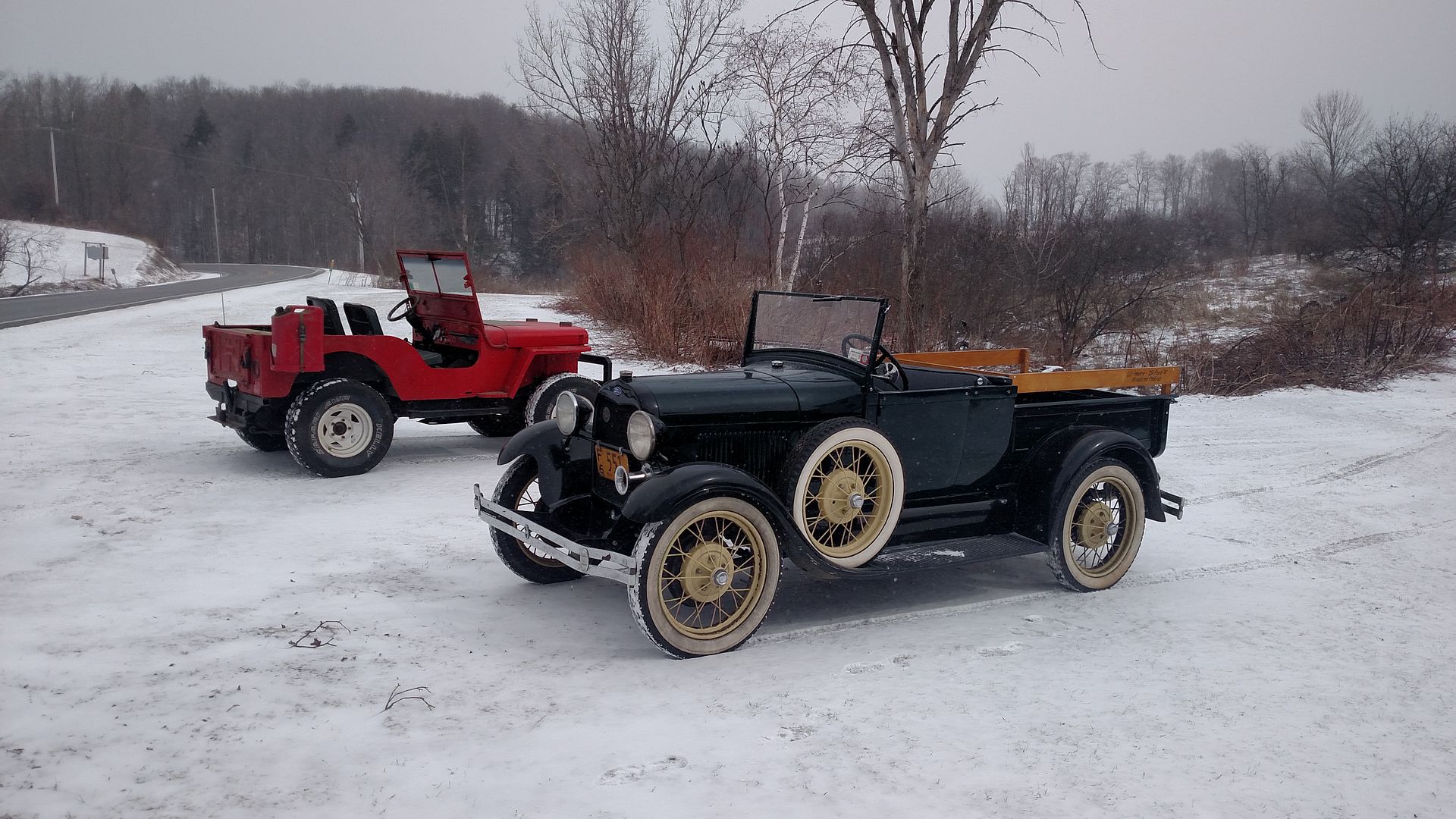 Sat Mar 11, 2017 5:33 pm
The folks that drove those first generation of vehicles where a tougher breed. It was tough enough fooling around with horses and donkeys but, traveling at 35 mph for a couple dozen miles for groceries would have been equally as challenging.
Although, I think it's time to trade my SUV in because the GPS screen isn't as big as I would like and the sun roof is too noisy...
Sat Mar 11, 2017 5:56 pm
No flying this weekend Glenn? Last weekend was also short on your normal great photos. Bob
Tue Mar 14, 2017 6:35 pm
Interesting day, 30" so far in less then 13 hrs. Still coming down hard. Up to my crotch trying to walk. Did my stress test spending over 2 hrs clearing the hangar roor and if it keeps snowing will do it again at 10 pm. Reminds me of Valentine's day 07 when we got 40" in 24 hrs. Town just pulled the 1950 Walter V double winger out of retirement and the driver that retired 5 years ago to drive it.

Let it snow

Glenn
Wed Mar 15, 2017 9:05 am
Hey Glenn,

Don't have a heart attack shoveling out. We were supposed to get 12-18" and got a bunch of rain and high wind only. Do you do any clearing of your runway? Looks like your ski season is extended a little.

Miss your updated pictures.

Bob
Wed Mar 15, 2017 5:27 pm


This is a picture from my kitchen looking across at my neighbor. Water is almost over their bulkhead. Mine is 2.5 feet higher and had no problem. Their lot flooded too as you can make out. Though to get on my dock I would have had to step up instead of down at that point.
Only thing we got was High Tides and a lot of rain Glenn. The flurries we got today amounted to more. Bob
Thu Mar 16, 2017 11:29 am
NWS says we ended up with 41" here in Cooperstown and 48" next town over

Glenn
Sun Mar 19, 2017 8:07 am
Can't wait to see where your adventures take you today. Bob
Sun Mar 19, 2017 3:06 pm
You lazy wheeled guys are missing some great doing this weekend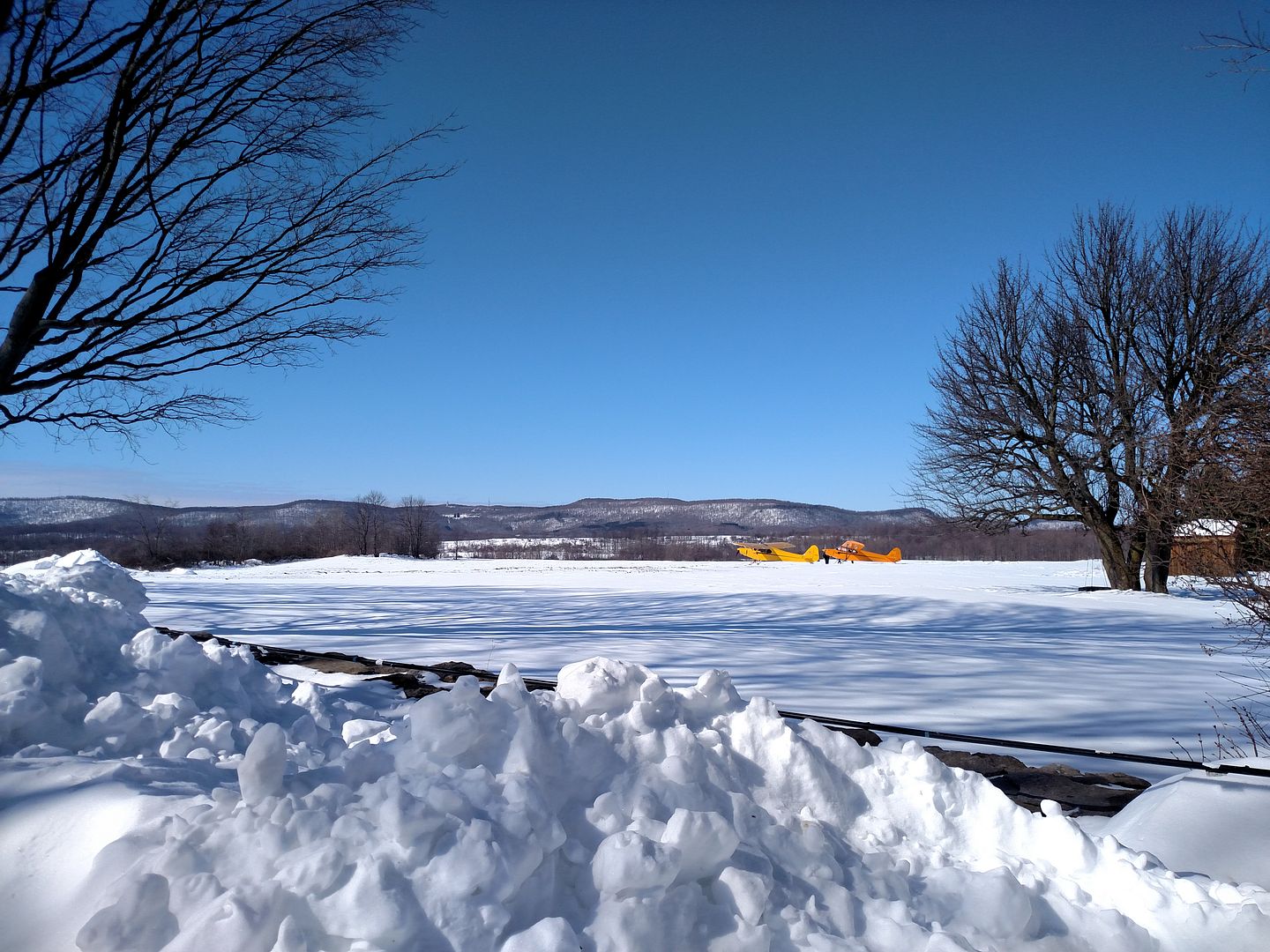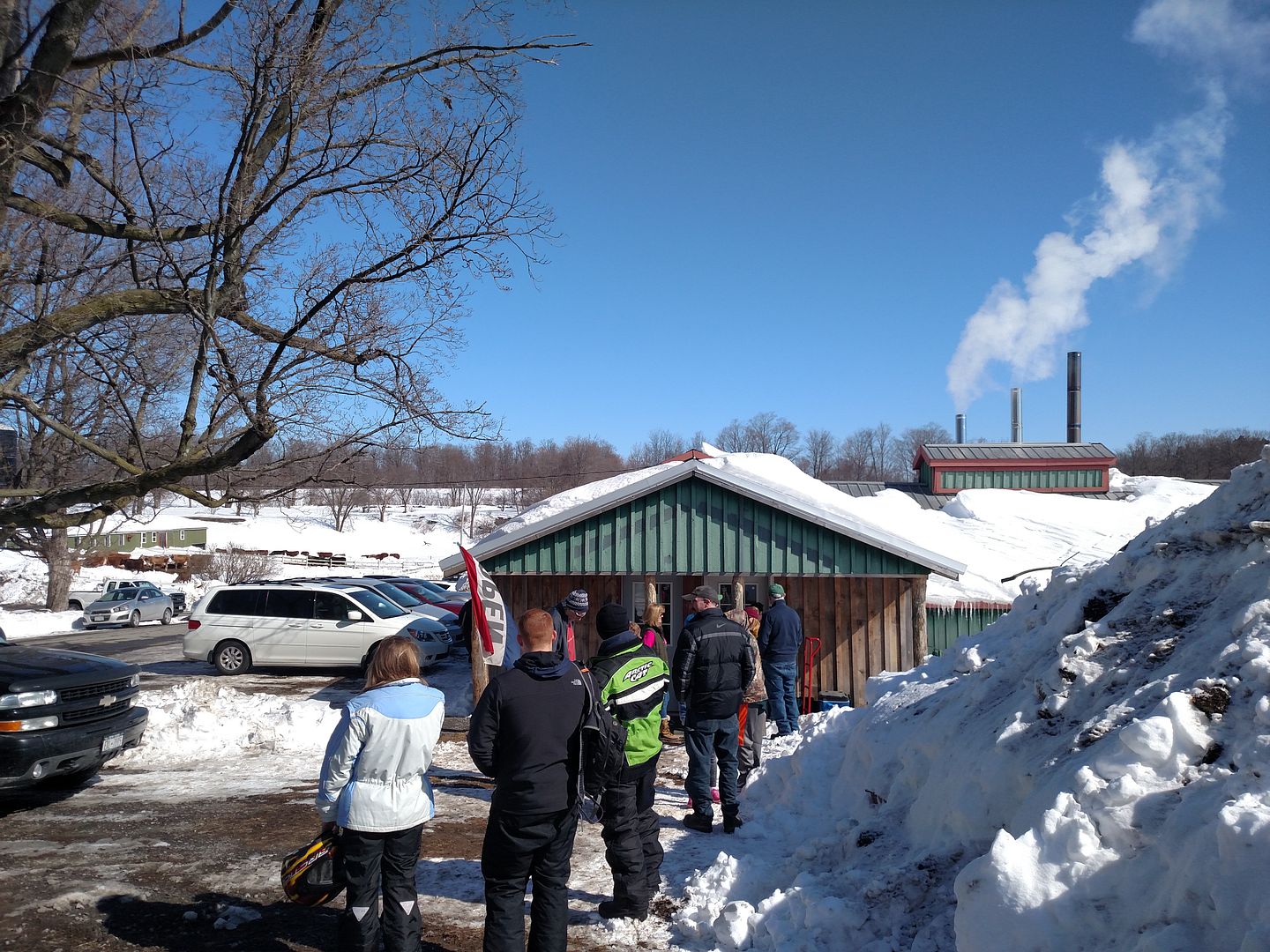 We needed a little sled help for Daves Super Cub on Summits to get off today. The lighter Cubs on straight Federals did ok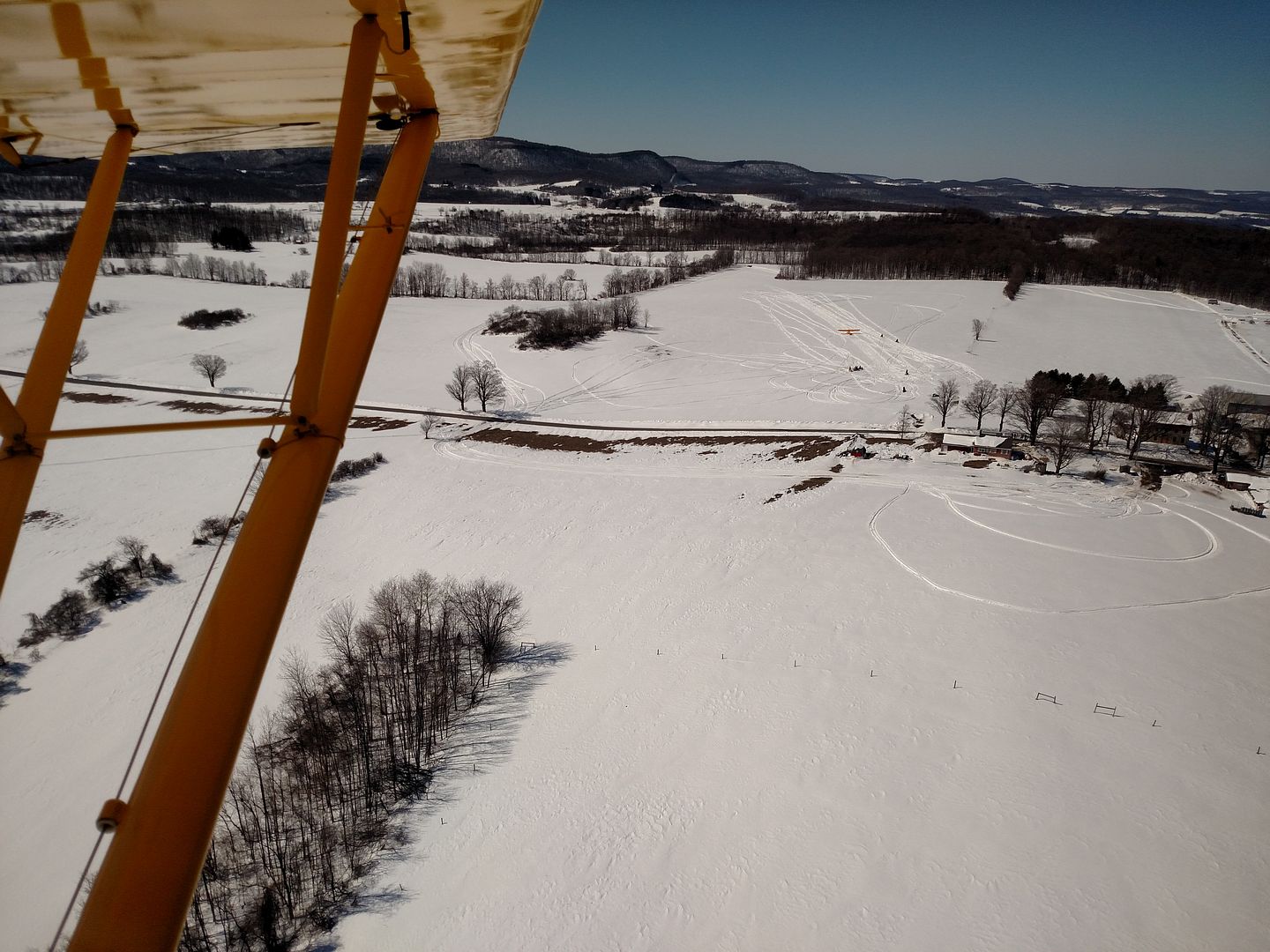 Whitetails on Otsego Lk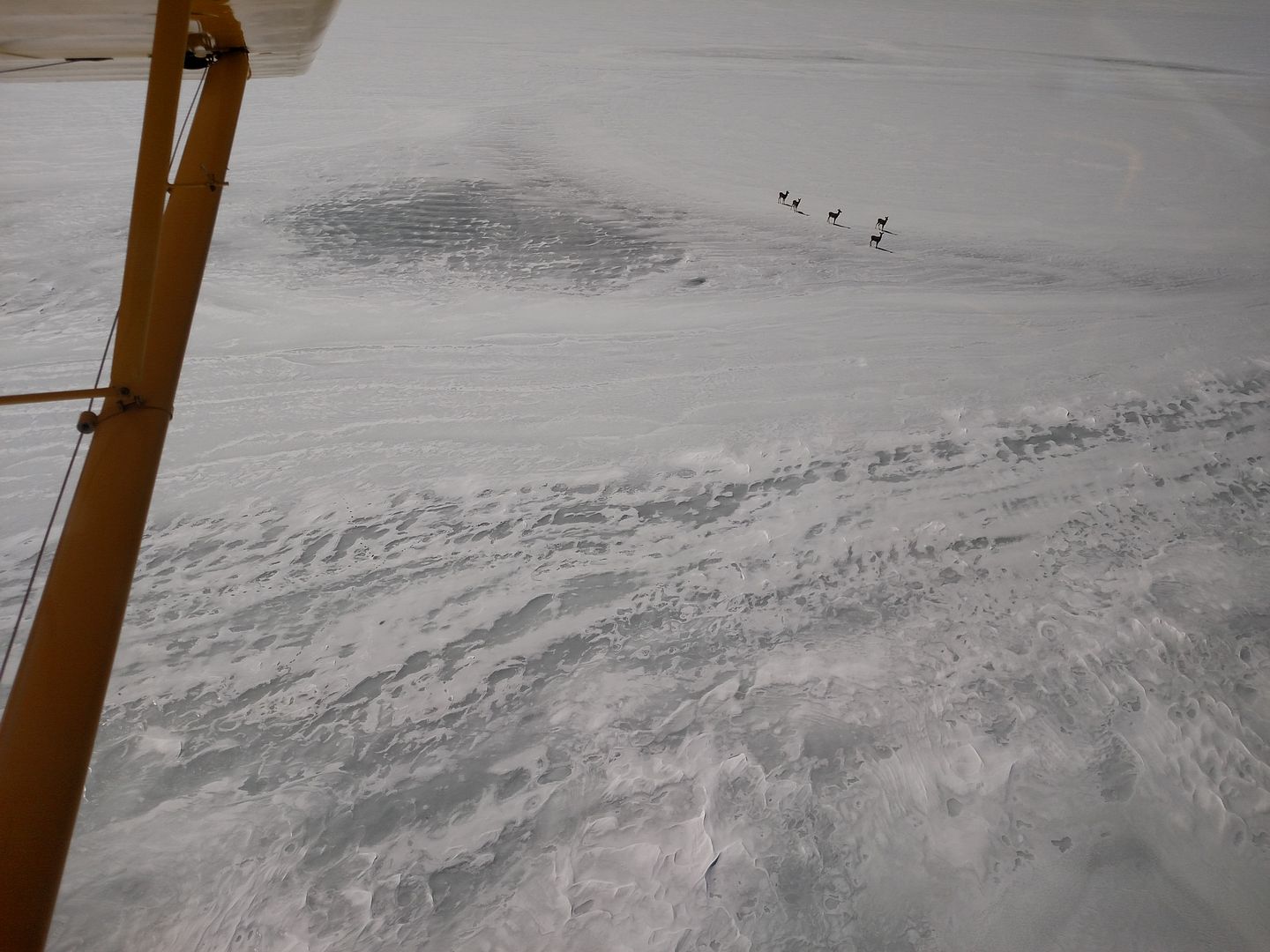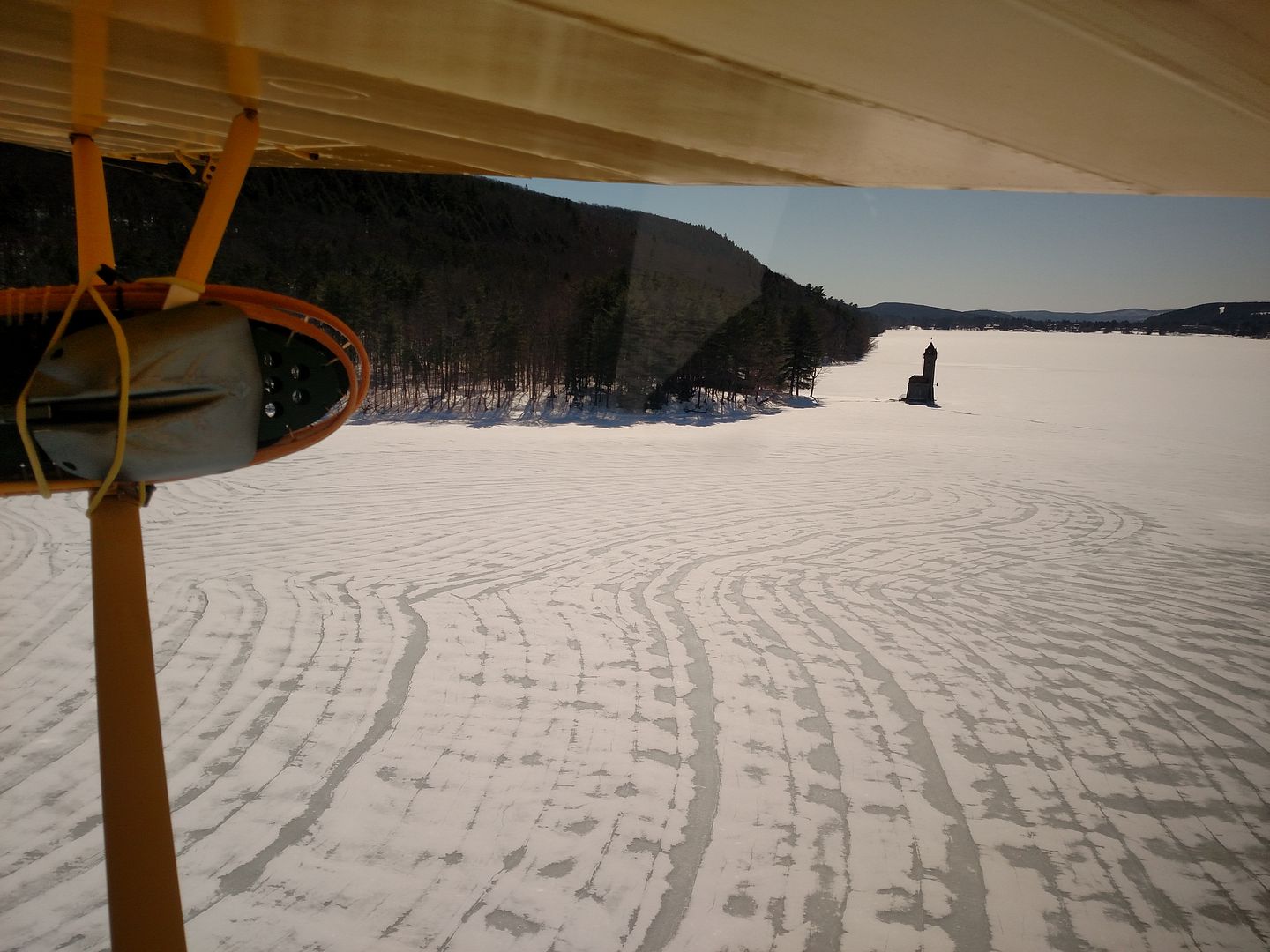 Almost screwed up landing back home, 44f and sunny makes 2+ feet of glue. I was down and still going when it took off going left when the skis caught the next drift and like a dummy I got off the throttle and it went left even harder so full right rudder and full power to get the tail back up and the left wing only mowed down a few pussy willows before it came back out of the ditch. One problem with a tailski is if it get in he wrong track behind you your going where it sends you till you can get the tail back up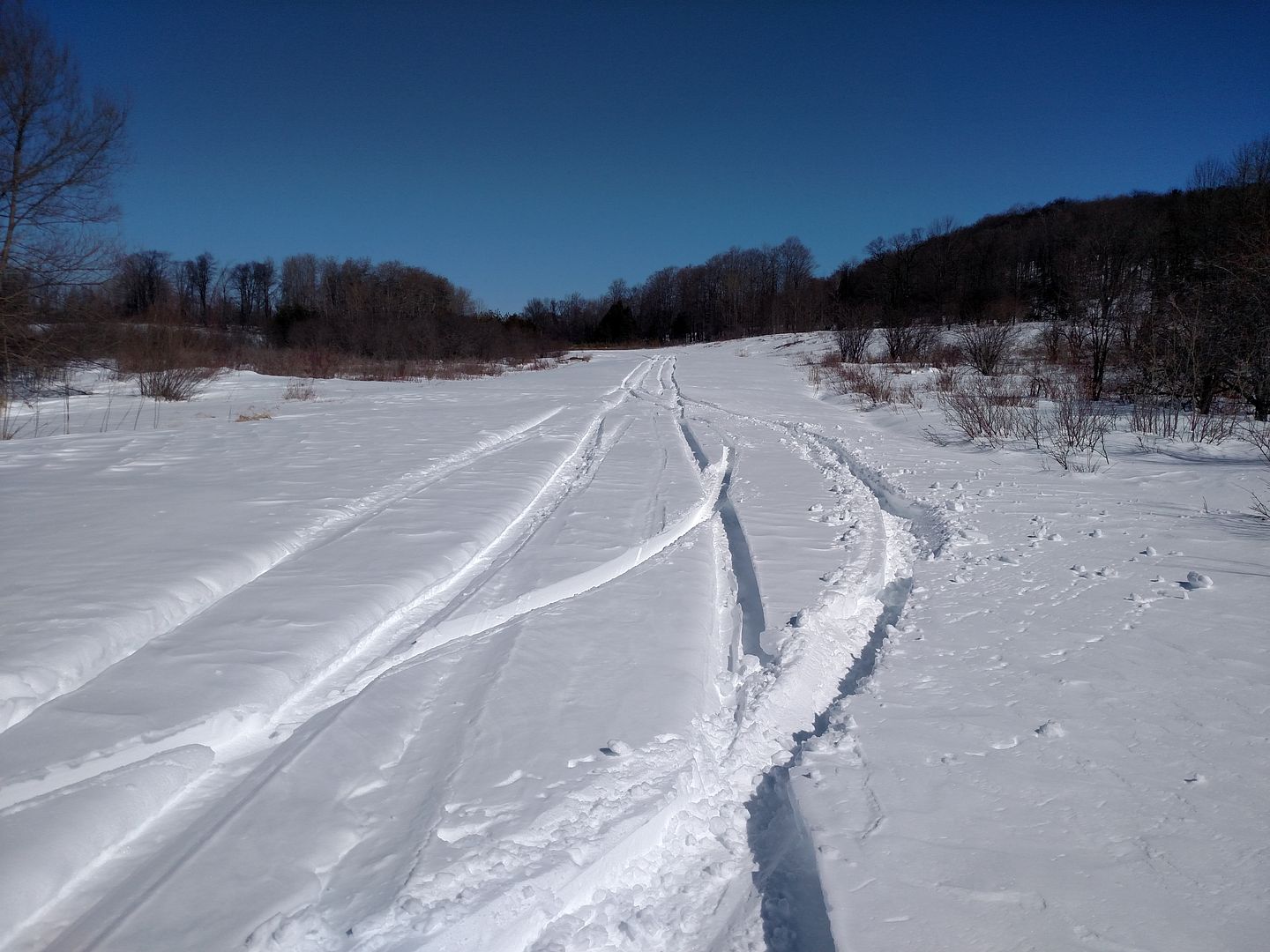 On a light Cub like mine a tailski is a catch 22. The plus is it keeps the tail up, the bad is my tail is so light I need to keep air flowing over my tail to keep from nosing over in this glue and when it settles in the wrong track you need to lift the tail so you can steer without going over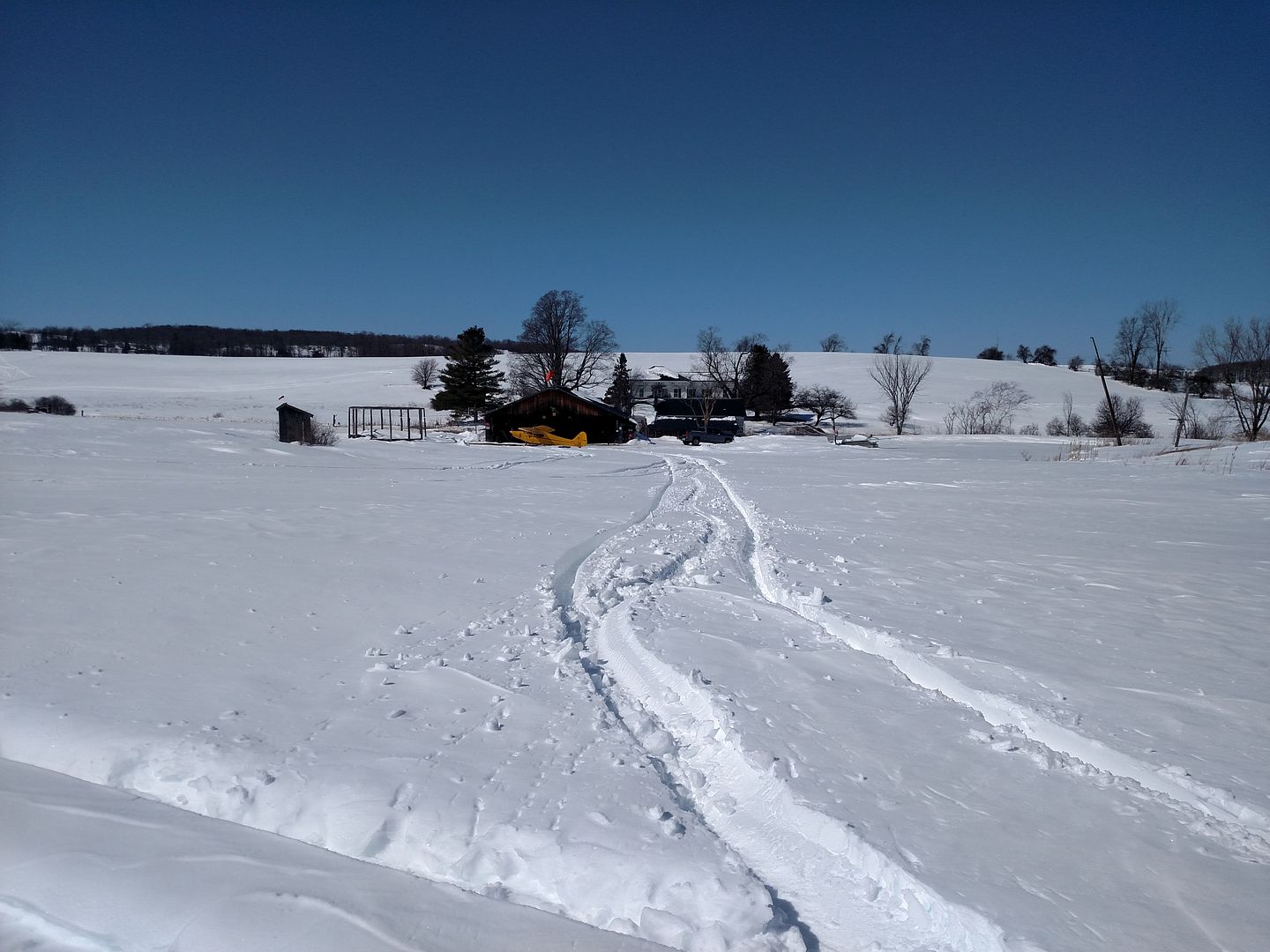 Gear is pushing alot of wet snow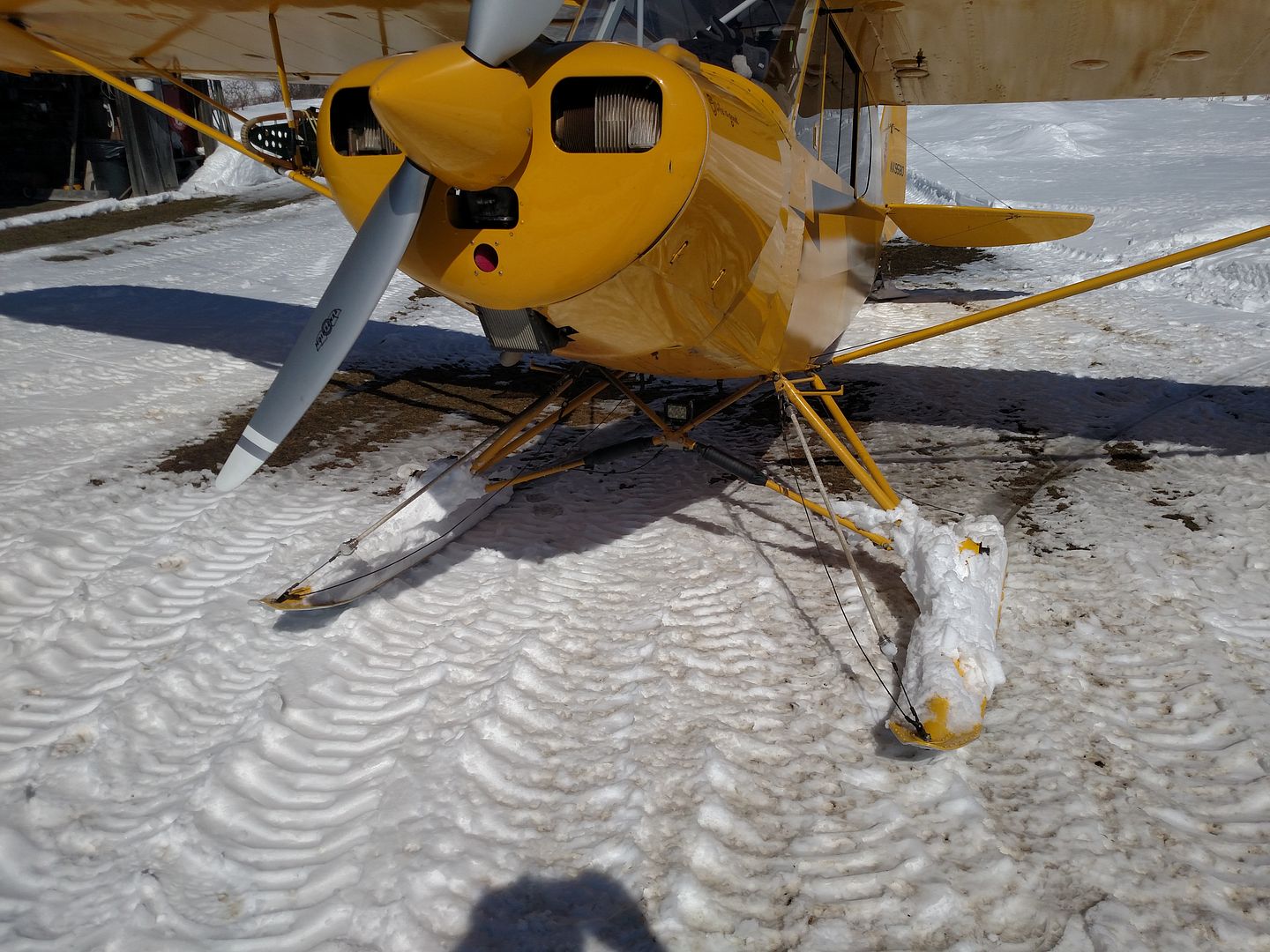 Another awesome day in upstate NY
Glenn
Wed Mar 22, 2017 3:07 pm
Are tail skids that more common than leaving tail wheels on with the skis in the front. Glad that you recovered without a problem. Do you have anything that you could use to flatted out the snow more when you get this much? Bob