Folks
I am going to put everything I have learned about Wip 2100 floats into one place and thus perhaps help someone else going down this road. This may take several weeks to do, a little at a time, but perhaps someone will benefit along the way.
We will start with the search.
After watching Barnstormers and Trade-a-plane for close to 3 years, I found a set of floats. I have been checking both sites several times a day and twice in the last 3 years a set of Wip 2100A amphibs came up for sale and were gone within a couple of hours, before I could get to a phone. These things just don't come up for sale that often. If you want a set you need to start looking well in advance of when you might want them. They are HARD TO FIND (used). If they do not have SC rigging it can be quite expensive to correct so that narrows the field in a big way. At any rate I found these through Wip, (they were brokering the sale of a Scout on these floats, and they agreed to separate them for me), while there I had a chance to visit with Grant and Amy, a couple of Supercub.org friends, who work there. Got a chance to see Grants Cub project, very nice!, and Amy showed me pictures of her Cub, getting a little wing tank work done. Fun to see both and visit with them. Both are great people.
I think part of the reason I was able to snag these floats is that I saw the ad quickly (within an hour or two after it came out) and the floats were not listed for sale. I called and asked if they would separate. After a lot of hemming and hawing Mike Aune agreed.
The only flaw is a little dock rash on the right float (can you guess which side the door is on?), the left float is perfect. Good enough for me. No corrosion and a lot of the Service Bulletins done, improvements, updates, etc.
Mike Aune and company at Wipaire were/are awesome. Great to deal with.
Yes, I would prefer to be able, and in a position, to operate on straight floats, but at this point in my life that is a really inconvenient, expensive, and time consuming option. If, in the future, I am in a position to go straight floats, I will do so and feel pretty confident I can resell these floats if necessary. One of the reasons I did not go with Clamar or Montana floats is the more limited resale market, as those floats are restricted to experimental aircraft only. I feel very confident I could resell these floats and recover most, if not all, of my investment. This is pretty important when spending this much money.
This is what they looked like when on the Scout
Left float - no door so very little time against a dock - is near perfect
You can see a little dock rash in the right (door side) float.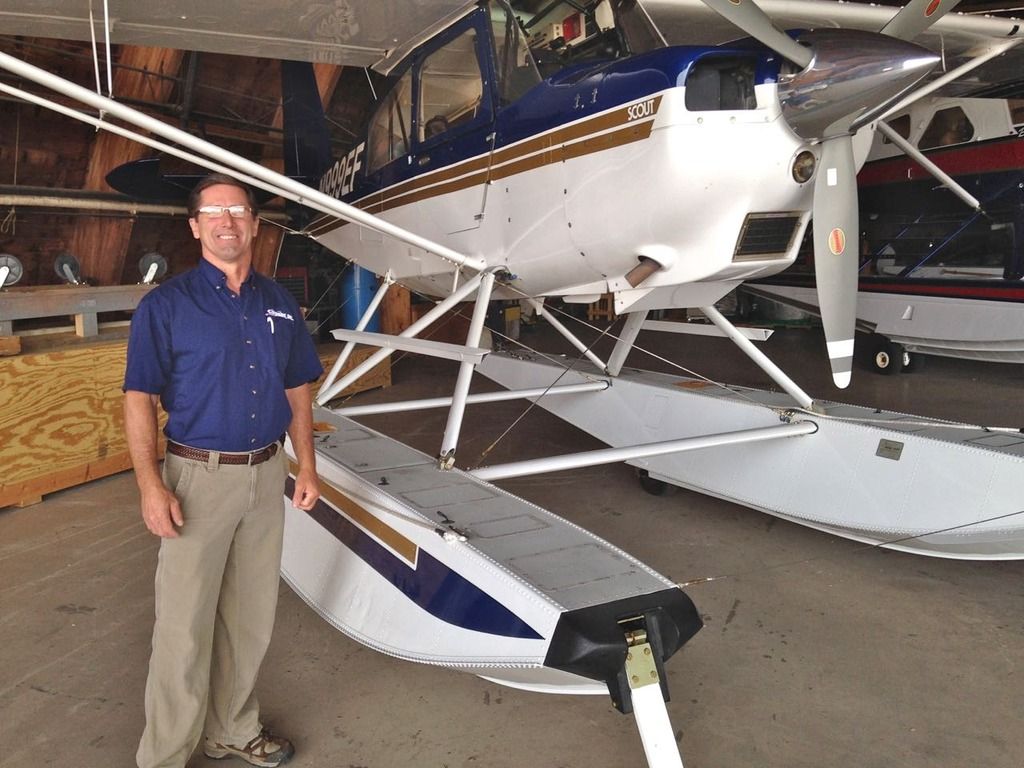 Mike Aune from Wip. Excellent guy.
Put em on a trailer and brought em home.
Home.
More to follow in a day or two with installation info, overhaul info, etc.
Hope this helps
Bill